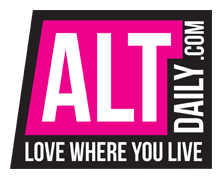 AltDaily Interviews Ukwensi Chappell
AltDaily's Richard Nickel  came by for an interview with Ukwensi at Gallerie Ukwensi.
AltDaily is an online Norfolk Magazine that is "Spreading the word, building community, making a home of it in the 757. "
You can read the AltDaily interview with Ukwensi Chappell: Ukwensi Chappell: "The Waters of Life"
Richard Nickel is a local artist and Associate Professor at ODU in the Department of Art.